6. If you do owe money to the IRS and do not report it, you are liable to pay penalties and interest...
Which accrue in perpetuity. After about five years, the amount of penalties accrued may more than double the original tax bill (compare it with stock market performance, which is flat for the last 10 years).
Let's look at some real numbers to really bring this point home. Below we plot what would happen to $1,000 invested in the U.S. stock market (Dow Industrials) vs $1,000 owed to the IRS. Assume that tax was due on January 1, 2005.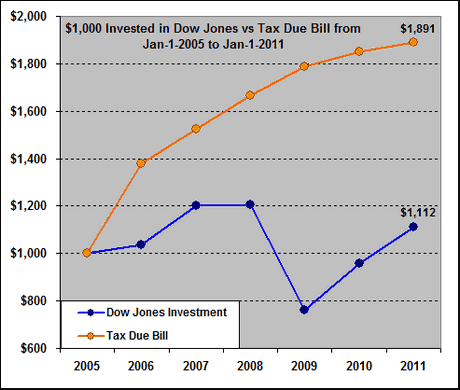 For those who like to play with the numbers, you can find the actual spreadsheet here.
As you can see, the stock investment has done very little, while the tax bill has almost doubled in 5 years.
https://www.taxesforexpats.com/expat-tax-advice/IRS-tax-penalties.html