Do Children Need to File Their Own Returns For Unearned Income (Dividends)?
How to treat children's unearned income – to report on parent return (form 8814) or file separate return (with form 8615)?
If only interest & dividends – can use form 8814
If child has only interest and dividends – use Form 8814 on Parent's return
Explore tax optimization – tax may be lower by filing individually child return

if interest and dividends are high – explore if tax will be lower by filing individual return for the child. Although this can be reported on parent return. determine which option gives a better outcome
If Capital gains – child needs separate return (with form 8615) – no other choice
If you are a TFX client and your child needs a separate return due to this situation, you will be entitled to a discount on the second return.
This is only available if the return is simple (only investment income).  If the child has other income – this does not apply.
The IRS treats dependent children differently depending on whether they earn money from work or through investments
All dependent children who earn less than $6,350 of income in 2017 do not need to file a personal income tax return. If earn $6,350 or more they must file and might owe tax to the IRS. Earned income only applies to wages and salaries your child receives as a result of providing services to an employer, even if only through a part-time job.
Even if your child earns less than $6,350 during 2017, it may be a good idea to file a tax return for them, because they could be eligible for a tax refund.
Regardless of whether the child files their own tax return to report earned income or does not file, child wages are NEVER included to parent's tax return.
Dependent children must file tax return if they have:
Unearned income (Capital gains, Interest,Dividends, Rents,Trust Distributions, Pension) of more than $10,500

Or
 
If a child's only income is interest and dividends (including capital gain distributions and Alaska Permanent Fund dividends), the child was under age 19 at the end of 2017 or was a full-time student under age 24, a parent can elect to include the child's unearned income on the parent's return. If this election is made, the child doesn't have to file a return.
The IRS table below shows decision tree for determination whether child income can be reported on parent return or not.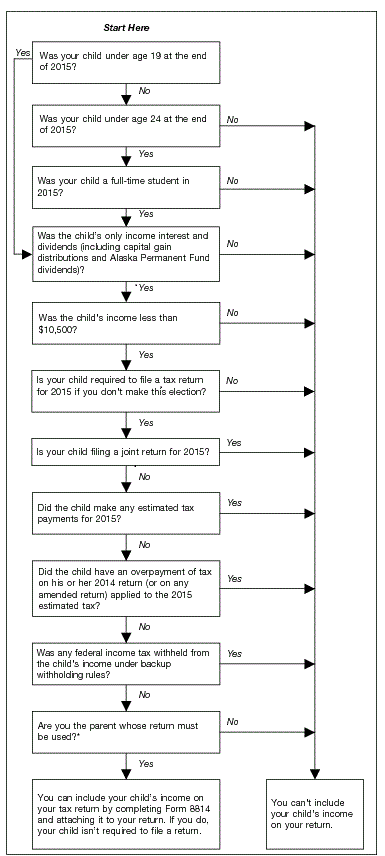 Ines Zemelman, EA
Founder of TFX